It's Me BCL The Solo Concert adalah konser dari Bunga Citra Lestari yang akan digelar pada hari Rabu, tanggal 1 Maret 2017, bertempat di Plenary Hall, Jakarta Convention Center.
It's BCL that we know…
a Lover
a Bestfriend
a Girl Turns a Lady
a Star
a Beautiful Soul
a Lovely Human Being
she is our own
INDONESIA'S SWEETHEART
Konser ini digelar oleh BCL dalam rangka merayakan 15 tahun dedikasinya dalam bisnis hiburan dan selama 10 tahun memutuskan untuk fokus dan berjalan di industri musik.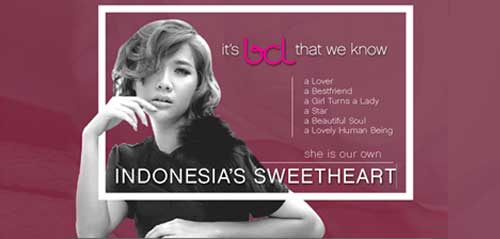 Now, she wants TO SHARE her laughs, her tears, her stories,
her roller coaster career journey, through her always
oh-so-emotional HIT SONGS
and INSPIRE MORE SOULS with her very first solo concert.
Pagelaran besar ini memadukan kolaborasi dan penampilan spesial antara lain dari BJ. Habibie, Reza Rahadian Joe Taslim, Yovie Widianto dan Ari Lasso. Serta dukungan team Creative Director (The Squared Division), Music Director (Andi Rianto), Show Director (Inet Leimena), Sound System (Clair Brothers), Stage Design (Ully – 3 Dimensi) dan Lighting (Iwan Hutapea) yang akan membuat
perhelatan ini menjadi sangat mewah.
I'm only human
Who loves to sing,
I share my thoughts through my songs,
my movies, my moves
I'm a dreamer
Who is now living my dream
I am Indonesian
Born and raised in Indonesia
Singing indonesian songs
Playing Indonesian movies,
aspiring to inspire Indonesia more
Daftar lagu yang akan dibawakan adalah:
Love
Sunny – Cinta Pertama
Kemerindu
Cinta Yang Terindah
Tentang Kamu
Tetaplah Dihatiku
Insiring
Wanita Terbahagia
Aku Dan Dirimu
Tundukkan Dunia
Life
Aku Bisa Apa
Bulan Penuh Ampunan
Kuasamu
Its Me
Saat Kau Pergi
Closing
Mungkin Suatu Hari
Karena Kucinta Kau
Medley Hits
Cinta Sejati
Contact Person:
Doddy 0811 118 3617
[email protected]