AlbumBaru.Com — JakCloth Ramadhan Festival 2017 kembali diselenggarakan dalam rangka memeriahkan bulan Ramadhan tahun ini.
Acara ini akan menggelar pementasan band-band idolamu, dengan jadwal tampil band yang harus kamu tahu yang diselenggarakan mulai tanggal 3-11 Juni 2017, bertempat di Mall Lippo Cikarang.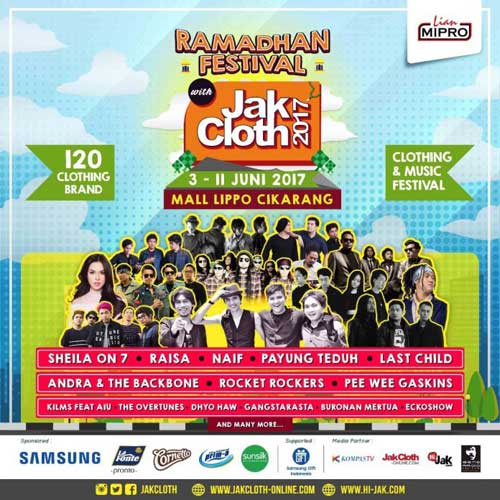 Berikut rundown-nya:
Hari Sabtu, Tanggal 3 Juni 2017 : Payung Teduh tampil sebagai headliner pembuka acara Ramadhan Festival
Hari Minggu, Tanggal 4 Juni 2017 : Dhyo Haw, Killms feat.AIU.
Hari Senin, Tanggal 5 Juni 2017 : The Overtunes dan Pee Wee Gaskins
Hari Selasa, Tanggal 6 Juni 2017 : Sheila On 7
Hari Rabu, Tanggal 7 Juni 2017 : Sydera, Overcase, Gangstarasta dan Rocket Rockers
Hari Kamis, Tanggal 8 Juni 2017 : Buronan Mertua dan Naif
Hari Jumat, Tanggal 9 Juni 2017 : Andra & The Backbone saling berganti hari.
Hari Jumat, Tanggal 10 Juni 2017 : Raisa
Hari Sabtu, Tanggal 11 Juni 2017 : Last Child tampil sebagai Closing Performance
Tak hanya itu, sejumlah band kompetisi yang ada di 10 besar juga akan tampil, seperti Hiptoday, Inrain, Odetta, Jeans Roek, Down The Weekness dan The Apollo Moon.
(Fifi/HaiEvent.Com)